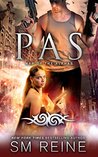 Pas by S.M. Reine
My rating: 4 of 5 stars
Disclaimer: I was given this 4-in-1 series book free for honest review.
So here goes! This is the only one in this series I haven't read before, yet it seamlessly followed the others. At least I knew when this one began as suddenly new stuff was happening that I didn't recognize.
Diedre Tombs is a mixed up, abused person with addictions and is trying to get it together now that she is attempting growing up and gaining responsibilities. She is hard to love as a character, but when has Sara Reine written characters that are Suzy Sunshines? Yet the abuse she endures and the addictions she continues are hard to read about. And her misguided thoughts about our old friend Rylie hurt.
Then Rylie shows the stuff she'd made of and all is well.
This is a great finisher book. All the threads are nicely tied up and you feel their universe will go on without you.
One of the problems I have with this book, and it may be that it was explained and I missed it with my text-to-speech reading, why is this called PAS? It makes no sense.
I'm glad to see that Ms. Reine has more for us from this LONG bunch of series. Another point of view will be written about soon. Yay!
By the way, because of the adult content this is better to be read by new adults and older. Maybe mature teens will get some of the issues involved here but even this old lady finds it hard to look at some of these issues. Still, it is well worth the read.