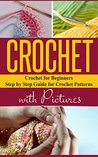 Crochet: Knitting: Beginner's Guide for Crochet (Crochet Sewing Crafts) by Dorothy Smith
My rating: 3 of 5 stars
Shoot! Darn, this computer without a rechargeable battery! I had nearly finished writing this review when it became unplugged and turned the whole thing off. So let's see if I can find my way back to this review.
This book promised to be different than the last two books I read on crochet, it said there would be pictures. There were. Just not enough. Since this is for the beginner it should have pictures about the initial loop and foundation chain. The pictures were of swatches of yarn patterns. They were beautiful. Looked like they were done by professionals. Nothing would be more intimidating that seeing those pictures. Better would be pictures of the swatch in progress showing how to hold the hook and move it into the proper places.
This review isn't finished. But I need to stop writing for the night due to aches and pains from the five-mile walk we just got back from. I will edit and write more here tomorrow. Sorry.
Twenty-four hours later I am ready to attempt this again.
There were all the usual new stitches. No patterns for articles of clothing or anything, Just stitch swatches. Not a bad thing, especially for newbies. But I was hoping for something to make for me. There were new stitches for me to learn, though, so that made me happy.
I would have written this review just as I finished the book, but this one came with two more books. It might have been a good thing if they were more about crochet. But the next one was about housekeeping/organization. Well, for someone with ADD this is a shiny thing that can't be resisted. So I continued reading/scanning as I went. Yes, this had some good ideas. I especially liked the recipes for household cleaners. And I will copy and paste this part of the review to that book as I already had it. Just hadn't read it yet. Guess, all in all, that was a good idea to include the book here as I was able to read it. I will keep these books in mind when I am ready for new patterns, new housekeeping ideas… and yes, there was yet another preview.
The preview in the back of the book was Vegan Cookbook. All three of these books need some thought in the title department. Just like the other two books, I already have this book so it was nice to have the chance to see that I will be able to enjoy it later. I wish I were a vegan. I keep trying but I like cheese too much. But it is my aim and I will read this one later and see if it can help me.