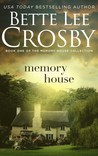 Memory House by Bette Lee Crosby
My rating: 3 of 5 stars
I was given this book by the author for an honest review.
I usually like Bette Lee Crosby's stories. This one was no different. I liked the story. I liked the characters. I liked watching the growth of the main character to a better life than what she had before.
Does this feel like it is leading somewhere? Well, it is. After getting to know the not so good current flame and watching it fade out, I was looking forward to getting to know the bicycle rider and the new flame. The book seems to assume that you remember these characters from other books. Um… no. I think the story would done better had that assumption not ruled the day. It all seemed to end far too abruptly. For all that leading up to the magick that the memory house contains it just fizzled and left me wanting to throw the book away. I don't feel that way often. But I just felt cheated.
Still, outside of the literary crash landing at the end, I still liked the book. Maybe folks that don't read 150 books a year would have more memory of characters in other books written by the same author. I have trouble remembering my own name, so…
Anyway, there seems to be a lot of 5 starred rating so maybe you would love it, too. Enjoy.