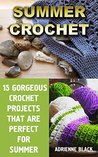 Summer Crochet: 15 Gorgeous Crochet Projects That Are Perfect For Summer by Adrienne Black
My rating: 3 of 5 stars
Okay, once again, I didn't READ this book. I leafed through the pages, looked at the pictures and decided if it had any patterns I would like to try.
Oh to be young and fit! There are some sexy beachwear, bikinis and the like in the beginning of the book. If you feel confident enough to try these, go for it! Unfortunately, even when I was young enough or fit enough, I lacked the gall to try wearing them. These are not for beginners but the patterns seem easy to follow. I still need more pictures for some stitches but, hey, that's what YouTube's for!
After the sexy pages of young nubile mermaids, there's chapter 3-Shoes and Such. Finally something I might be able to feel good about. Flip Flops and sandals. Chapter 4 has a picnic basket and blanket. Then chapter 5's odds and ends include a baby hat and a flirty skirt. So, really, for me, there was only the baby hat that I might make for the hugger hats. If I remember where it is. SEE, that is why I write these reviews. I will come here to find more hats.